Uluru - or Ayers Rock - is Australia's proud symbol, and site of spiritual significance for the Anangu people. Like an iceberg, it's believed that only a third of the big red rock lies above ground. What we can see measures 3.6 km (2.5 miles) long, 348 meters (1,141 feet) tall, so Uluru is an awfully big rock.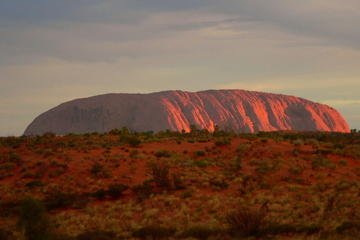 Ayers Rock is known for its fabulous colors at dawn and sunset, when the pitted rock surface turns from ocher brown to a rich burnished orange.
Walking tracks lead around the base of the rock, ranging from easy 45-minute strolls to the circumnavigation which can take up to four hours and passes caves, paintings and sacred sites. The Anangu people ask visitors not to climb their sacred rock, and it is a dangerously steep and windy ascent.
Instead, taking a tour led by the Anangu is a very rewarding experience, as is visiting their cultural center to learn the Dreamtime stories and cultural significance of the site.
Click here for: