While zip-line tours that take you swishing through the treetops at squeal-inducing speeds certainly have their charm, there are other ways to appreciate Costa Rica's wondrous wilderness.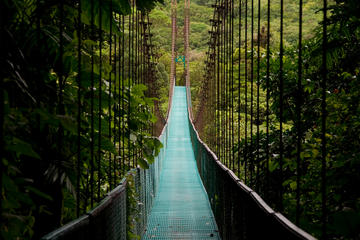 Unbeknownst to most tourists, the life of the rain forest largely takes place overhead, in the thick jungle canopy of sunlight and opportunity.
Most of Costa Rica's birds, monkeys, giant anteaters, sloths, snakes and amphibians spend the better part of their lives in the distant treetops, far from the snapping cameras of junior photographers. The key to seeing these creatures (and getting the best shots) is ascending into the trees yourself.
Hence these 16 elegantly constructed Arenal Hanging Bridges—some suspended high above gorges and others stretching far across jungle floors—that line the winding paths of this epic Costa Rican hike and stretch a total of 2.6 km (1.6 miles) across the steeply pitched landscape.
Click here for: