The archaeological site at Akrotiri may be closed, but fortunately you can get your fill of excavations at the site of Ancient Thira.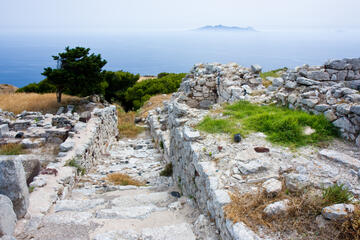 There's a mix of ruins to explore, including Hellenistic, Roman and Byzantine remnants, excavated in the 1890s. Take a tour to identify the different structures – temples, houses, the market (agora), theater and gymnasium.
At its height, this was a thriving center, with dramatic sanctuaries hewn into rock, temples, an impressive theater and porticoed administrative buildings. The central area is the Agora, the old commercial hub, encircled by temple sanctuaries ringing the city. There are also ancient cemeteries here, unearthed since the 1960s. Don't miss the views over the coast while you're here.
Click here for: