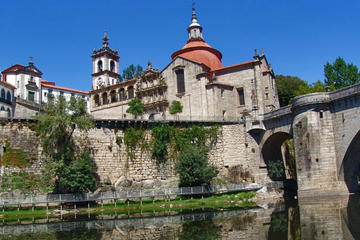 Allegedly established by a Roman centurion named Amarantus, Amarante is situated between the steep sides of Serra do Marão and the curves of the river Tâmega, the longest tributary of the river Douro.
Modern Amarante is actually rooted in the 13th century, when the Benedictine monk St. Gonçalo settled in the area after completing a pilgrimage to Italy and Jerusalem. He is said to have commissioned the original bridge over the river Tâmega, located in the same spot as modern times.
In addition to its centurion, saint and bridge, Amarante is known for its sweets and cakes, and these are easy to find in many of the region's cake-shops and cafés. However, during the Feast of Sao Gonçalo, Amarante's baked goods become famous for a different reason: they're baked in the shape of phalluses, Sao Gonçalo is the patron saint of marriage and lovers. As suggestively shaped confections are not the norm for a Catholic Saint's day, the tradition is likely rooted in a pagan fertility ritual.
Click here for: